We have got a new, interesting attraction for tourists and especially pilgrimages visiting Poland  –  the Christ the King Statue.
Basic information
The statue with the 16 meters high embankment has been built since 2006 in a Swiebodzin – a small city located  near the border with  Germany, thanks to private donations only.
The dimensions are:
height  – 167 feet (52 meters) if you include a mound it sits on and the crown on the head.
width – 83 feet (25 meters) total (with hands)
weight – 440 tonnes
The Crown of the temple is 3.5 meters in diameter and 2 m in height, and the whole is Gilded.
The tour description
The statue attracts more and more Polish and international tourist and pilgrimages. We canorganize a private tour from any place and city in Poland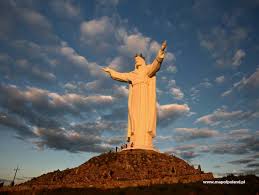 for you !
It doesn't matter where you are and how many of you would like to see the Statue – we will provide our English speaking guide – driver with a comfortable car or van. In some cases it will not be possible to visit the Statue and arrange return transfers within one day. In that cases we will arrange for you an accommodation on the way with another possible attraction to visit on the way.

The tour dates: any  on your request
The tour prices:
1) The one day tours are available from Poznan, and Wroclaw. The price for that one day tour are following:
2-4 person group – USD 499 / group
5-8 person group –  USD 459 / group
2) The two day tours (for example from Warsaw or Krakow), including transfers, English speaking guide – driver and an overnight at a good 3* hotel, and extra visit to Wroclaw (leaving Krakow) or Poznan (leaving Warsaw), are available with following prices:
2-4 person group – USD 490 / person
5-8 person group –  USD 279 / person
Don't hesitate to contact us if you would like to add a visit to Swiebodzin to your tour program in Poland !