Krakow is one of the largest cities in Poland, a capital of Lesser Poland Voivodeship, and a former capital of this country. It is also one of the most beautiful places to see in Europe. So if you're planning a trip to Kraków, this city offers you lots of astonishing historical places, fascinating cultural events and tasty food. It's a place where Polish kings and queens were crowned from 1320 to 1734. In 2000 it was a European Capital of Culture among 8 other European cities, as it was special, millennial year. A legendary Wawel Dragon comes from here and guards the Smocza Jama (Dragon's den) at Wawel Hill. In spring you'll see there the Lajkonik, equally legendary character, of Tatar's origin in his colorful, oriental outfit and his horse. Hence, if you're considering holidays in Poland, Kraków is a great place to learn its history and culture.
Must-see places in Kraków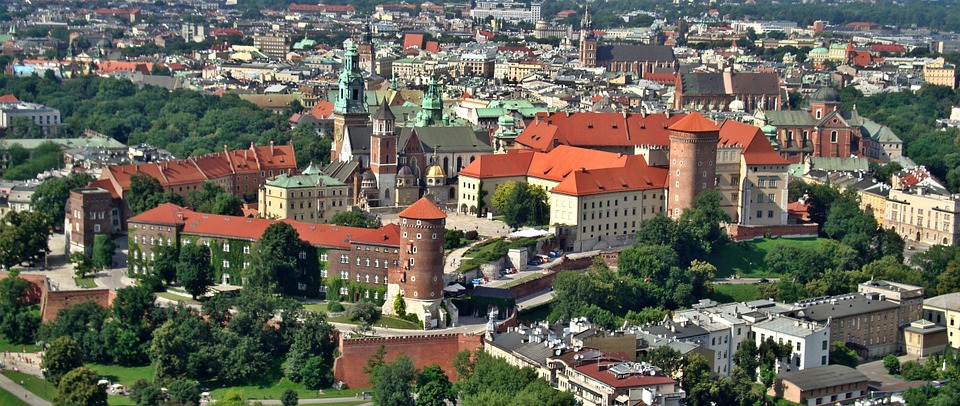 Firstly, the monarchy-related sightseeing. Start with the Wawel which is a limestone hill on the left bank of the Vistula River, and a fortified complex of buildings with the Wawel Castle that was finished in 17th century, but was under construction and constant refurbishment works on the course of years from 11th century, therefore it consists of elements from Renaissance, Baroque and Classicism, but also gothic ones. Now it is a place of Wawel Royal Castle Museum – State Art Collection, where especially worth seeing are Crown Treasury and armory, and the Royal Private Apartments, State Rooms or The Lost Wawel. In certain seasons there are also additional exhibitions available for visitors like: Dragon's Den (of mythical Wawel Dragon, killed by the legendary Polish ruler and the founder of Kraków, Krakus) or Wawel Architecture and Gardens as well as Sandomierska Tower. On the Wawel Hill there is also located The Royal Archcathedral Basilica of Saints Stanislaus and Wenceslaus (in Polish in short: Katedra Wawelska) which construction started in 1000. It is a place of coronation of numerous kings and queens, as well as the burial site of kings and queens (from Władysław I the Elbow-high to Augustus II the Strong) and other important figures. The Hill is enlisted on the UNESCO World Heritage Site.
During your trip to Kraków, Poland, stroll down the Old Town (Stare Miasto in Polish) and discover all the stunning townhouses of Main Square like: brick gothic St. Mary's Basilica (Kościół Mariacki) towering over the Square, or 70 meters tall, brick and stone gothic Town Hall Tower, baroque Church of St. Adalbert (Kościół św. Wojciecha). The Main Square has its unique atmosphere with St. Mary's Trumpet Call (Hejnał mariacki) played by the trumpeter on every hour from the highest tower of the Basilica. The melody ends unexpectedly as a memento of legend recalling the Mongol invasion of Kraków. The trumpeter raised an alarm with hejnał, so the sentries managed to close the city gates which stopped Tatars, but the trumpeter himself was killed with an arrow that pierced his throat and therefore the tune wasn't finished. Make sure to visit Sukiennice (Kraków Cloth Hall) – they were the place of international trade and now there are: a gallery with stalls where you can buy souvenirs and handicrafts, famous Café Noworolski as well as the Sukiennice Museum division of the National Museum with the largest exhibition of Polish paintings and sculptures from the 19th century, and museum Rynek Underground where visitors can see, for example, a reconstructed workshop from 12th century, the residues of burned settlements, the oldest brick trading buildings, aqueducts, or 13th century groovy stone paths.
Wander around one of the largest city parks in Krakow, Planty Park, which surrounds the historic fragment of Old Town, where you can marvel at various gardens, fountains and alluring walkways. See the remnants of city walls like gothic St. Florian's Gate with a fortified tower or impressive medieval Kraków Barbican.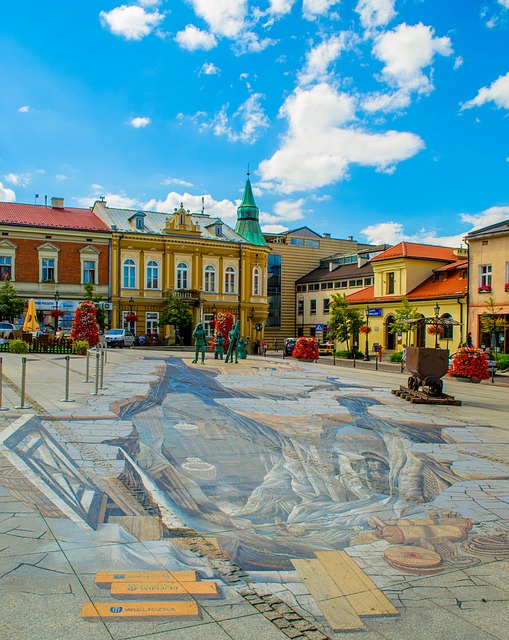 Jewish history
Trips to Kraków may be also rich in Jewish history. Kazimierz, formerly an autonomous city (from 14th century, when it was established, to the breakthrough of 18th and 19th century), now is a district of Kraków and is mainly known for being a center of Jewish culture in Poland, since it was in large part inhabited by Jews.  However, they were relocated under duress into the Kraków Ghetto during the World War II. Yet, some relics of architecture prevailed, and can now be visited by people who want to know the Jewish history better. You'll find here synagogues like The Old Synagogue, The Tempel or The Wolf Popper Synagogue, as well as cemeteries: the Remah Cemetery from 1535 (no longer active), which is also called the Old Jewish Cemetery of Kraków or The New Jewish Cemetery, established in 1800. Go and see also the Great Mikvah (Mykwa Wielka) from 1567, where you can see the historic mikvah and visit Klezmer-Hois Restaurant.
If you want to learn more about Holocaust, set off to Nazi Germany's concentration and extermination camps, namely Auschwitz-Birkenau, built in occupied Poland during World War II, where a lot of original buildings prevailed and now serve as a meaningful lesson for visitors.
In Kraków there is also an authentic factory of enamelware and ammunitions in which Oskar Schindler (back then Deutsche Emailwarenfabrik, now Fabryka Emalia Oskara Schindlera) employed Jews during Holocaust, enlisted in his list, and saved their lives. This is also the very same location in which Steven Spielberg decided to film the major part of his film "The Schindler's List".
City of museums
A bonus for all the fans of museums – in Kraków, Poland, holidays may abound with galleries and exhibitions. Go to National Museum where you can wonder at Leonardo da Vinci's Lady with an Ermine or Rembrandt's Landscape with the Good Samaritan, learn history in The Historical Museum of the City of Kraków, or in Armia Krajowa Museum in Kraków where you'll hear about the underground Polish Secret State and The Home Army, as well as The PRL Museum about the pro-communist People's Republic of Poland (PRL) that existed from 1947 to 1989.
Make sure to visit the oldest university in Poland, namely Jagiellonian University and its oldest building erected in 14th century, Collegium Maius. You'll see here paintings, sculptures and 2000 scientific instruments like Jagiellonian Globe, Arabic astrolabe from 1054, and other tools from fields of astronomy, chemistry, biology, mathematics, geodesy and so on. There are also permanent exhibitions in Copernicus Room, St. John Cantius dwelling, Libraria (historic library), the Treasury or Aula, that give visitors a glimpse of historic academic life.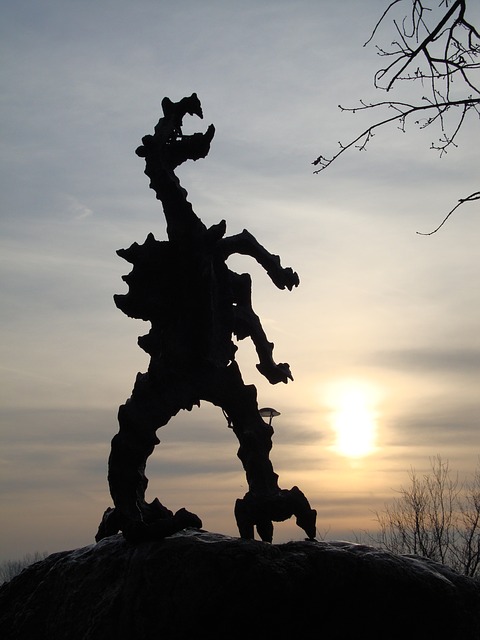 Kraków cuisine
Experiencing local cuisine is always one of the best parts of travelling! That's why we encourage you to try local food from Kraków, which has various influences from Jewish cuisine, German and Austrian, Czech, since many different trade trails intersected in Kraków. Thus, in Kraków go and try its absolute most famous pastry, obwarzanek which is a bit similar to bagel or a pretzel, but in a ring-like form, topped most commonly with salt or sesame, but also with poppy seed or black caraway or eat zapiekanka, a toasted, halved baguette with cheese and various additions like mushrooms, chives, chopped onion and ketchup. There is also an ancestor of a burger, maczanka, which is a bread roll filled with meat like pork chop or neck with onions and mushrooms. In Poland sausages are very popular, thus when in Kraków, taste kiełbasa lisiecka, traditional smoked pork sausage. Make sure to try krakowski cheesecake (sernik) with characteristic chocolate checkered pattern on top or krakowski gingerbread (piernik) or miodownik (honey-infused pastry). Chocolate Sachertorte (tort Sachera) or Pischinger cake (piszinger) made of wafers and chocolate-walnut filling are also quite popular and worth bingeing. You can also try more universal dishes in Kraków, like famous dumplings pierogi with sauerkraut and mushrooms, or meat, or ruskie (with cheese, potato and onion filling), and soups like barszcz biały which is meat stock with soup greens, cream, hard-boiled eggs and sausage from the stock, or zalewajka ozorkowa which is a soup greens stock with cream and pork or ox tongues (mind you, offal-based dishes are very common in Poland, you should definitely give it a try while travelling to Kraków!).
What is the best time to visit Kraków?
It all depends on your preference. Late spring or early fall are probably the best, since it is mild and the air pollution-level is lower. Summers can be really hot and in July it tends to be quite rainy. On the other hand, winters are usually just chilly, but sometimes it gets to even -23˚F or lower, which might become a real issue if you're not used to cold weather (the snow, though! If you're a fan of snowy weather, Kraków looks beautiful then). When it comes to finances, in Poland holidays are during summer which is the high season, with lots of tourists and higher prices for accommodation (same with Easter, May 1th to 3th, Corpus Christi, Christmas, New Year's Eve).
When it comes to events in Kraków, the best time to travel there is spring and early summer. You can attend then Long Night of Museums when visitors can access most exhibitions for free, Kraków Film Festival which is one of the oldest festivals in Europe focused on animated films, documentary and short films, Kraków Film Music Festival with concerts and retrospectives, or Jewish Culture Festival. There are also folk-based events like: The Great Dragon Parade with handmade (by children!) dragons strolling by the Vistula River, or Lajkonik march with the man dressed in Mongol outfit, prancing through the city streets to the Main Square with a Mlaskoty band accompanying him or Polish music festival Wianki (Wreaths).
Visit Kraków with GFP Travel
Kraków offers you tons of activities and astonishing experiences, hence make sure to choose the best option with GFP Travel – contact us and we'll help you arrange the best trip to Kraków. Whether you prefer group travels or individual, thematic or tailor-made ones, we're here to provide you with the best time in Poland!