Day 1
st
Your arrival to the Warsaw airport, where you are welcomed by our local guide. Transfer to your hotel. Depending on arrival time,  an evening stroll through the Old Town is possible. A welcoming dinner in a regional or the hotel restaurant. An overnight stay at a hotel.
Day 2nd
Breakfast, then a guided tour of Warsaw: the Royal Castle and the Old Market Square with the Barbican. Transfer to Lazienki famous for its splendid gardens and the Palace on the Water. Dinner in a hotel restaurant and an overnight stay at a hotel.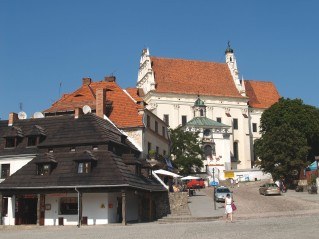 Day 3rd
Breakfast and the departure to Kazimierz Dolny, a picturesque old town located on the Vistula river banks. A guided  tour of the town and a visit to the ruins of a castle,  churches, monastery. Kazimierz Dolny is a town that should be a part of each tour to Poland.  Dinner and an overnight stay at a hotel.
Day 4th
Breakfast and the transfer to Sandomierz – an example of the Renaissance architecture in Poland . The guided tour includes a walk through the picturesque streets of the Old Town, a visit to the castle and  St. Jacob's Church and Dominican Monastery. You can also take an optional "underground tour" – guided and led along the corridors and old cellars under the Old Town streets. An afternoon departure to Krakow, an overnight stay at a hotel.
Day 5th
Breakfast, then a morning guided tour of Kraków (if you travel to Poland you must see it ). The city guided walk includes a visit at  the Old Market Square with St. Mary's Basilica and historical trade pavilions of the Cloth Hall. Next, your tour goes along the Royal Route to  Wawel hill, to visit the Royal Castle and the cathedral with the famous Zygmunt Bell. An optional evening visit at the old Jewish Quarter – Kazimierz with dinner in a local, Jewish type restaurant with live folk music. An overnight stay at a hotel.
Day 6th
Breakfast, then morning transfer to Wieliczka for a visit at the famous Salt Mine with  its underground chambers, chapels and salt sculptures, inscribed at UNESCO world heritage list. An afternoon transfer to the Krakow airport or the departure for your next place of visit. End of your Vistula river tour.
If you are interested in this tour, contact us by e-mail orphone and let us know more about:
– the number of participants coming with you,
– the exact or possible  date of your visit,
– the standard of accommodation and type of rooms that you would like to book,
– any changes or additional services in the program above
Similar tour – Along Vistula river to feel the Baltic sea breeze…