– mile stones of Poland's history –
Day 1st
Your arrival in Gdansk, transfer to a hotel. Depending on your arrival time, an evening walk through the city, or some time to relax. A welcoming dinner and first overnight stay at a hotel during your Poland tour.
Day 2nd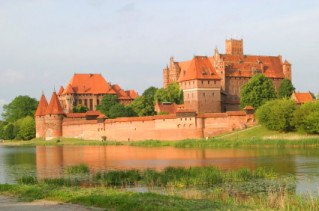 Breakfast, then a first guided tour of Gdansk – Old Town with Golden Gateway, Neptune's Fountain, the Artus Court and Dluga Street. Afterwards visit at Mariacka street and a walk along Motlava river with its famous wooden Crane. You tour ends with a visit near the Solidarity Monument at the Gdansk Shipyard – the birthplace of the Solidarity movement. Dinner and an overnight stay at a hotel.
Day 3rd 
Breakfast, then a transfer to Oliwa for the organ music concert in the Oliwa Cathedral with its famous organs. Next, your visit Sopot – a lively bathing resort, popular for relaxation. Gdynia is next famous for its Aquarium and a maritime museum based in a historic ship. Return to Gdansk for a dinner in a restaurant and an overnight stay at a hotel.
Day 4th 
Breakfast, a boat trip around the Gdansk harbor, passing the Westerplatte, where the Second World War started, or a longer cruise along the Hel Peninsula, with beautiful views of old fisherman's houses and lighthouses. Short break in Hel – time to relax. Afternoon return to Gdansk,  dinner and an overnight stay at your hotel.
Day 5th
Breakfast, departure to Malbork. A visit to the Malbork castle – the largest brick, medieval castle in Poland, built in XIII c. by the Teutonic Order. A guided tour with an optional special offer for school classes. Afternoon return to Gdansk for your return flight or train or next part of your Poland travel. Your Solidarity birthplace tour ends.

Tour prices:
440 USD / person (group of 20 persons)
390 USD / person (group of 30 persons)
370 USD / person (group of 40 persons)
if you have smaller or larger group send an extra request to get best price for you !
Tour date: any date – on your request.
Price includes:
– transfers by a luxurious coach,
– accommodation at hostel or hotel (standard on your choice),
– breakfasts and dinners as indicated in tour program,
– tour guide services,
– entries and local guides, where it's obligatory with all necessary reservations.