Kliczków castle
Location: Enchantingly located in the very heart of Lower Silesian Woods, 12 kilometers from Bolesławiec,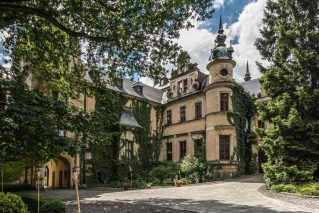 Kliczków Castle is an accessible but at the same time mysterious and green enclave for everyone.
Your visit date:  any 7 day stay in 2020 and 2021 – confirmation after your  request by email at office@greetingsfrompoland.com
Stay price:  USD 499 / person
(min. 2 person group)
Your stay price includes:
– 6 nights at double bed room at the castle,
– 6 buffet breakfasts at the castle restaurant,
– 6 dinners at the castle restaurant,
– unlimited access to Wellness area at the castle-hotel,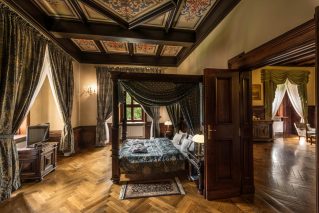 – one guided visit to the castle with local guide,
– "sweet break" – everyday dessert at the hotel restaurant,
– access to the Pottery Museum in nearby Boleslawiec,
– one pottery workshop for all,
– local tax,
– transfers from Wroclaw airport on arrival and departure day.

Extra information about this hotel advantages available for you:
– swimming pool & sauna,
– gym,
– tennis courts,
– Equestrian centre,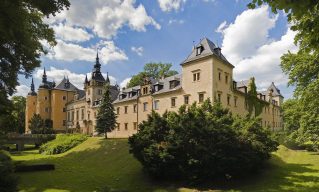 – volleyball courts,
– outdoor games,
– billiards and table tennis,
– bicycle rental.
Possible extra one day tours for you on request:
– one day tour to Wroclaw,
– one day tour to Ksiaz castle and a Church of Peace in Jawor,
– one day tour to Karpacz in Karkonosze Mountains.
More informationa about this hotel – palace you may find at website here https://kliczkow.com.pl/kliczkow/en/homepage/