Day 1st
Your arrival to Gdansk, where you are welcomed by our local guide. Transfer to your hotel, some time to relax. Depending on your arrival time, an evening stroll through the Old Town is possible. A welcoming dinner in a regional or hotel restaurant, firts overnight stay at a hotel during your Poland tour.
Day 2nd
Breakfast, then a morning guided tour of Gdansk. During this tour you will see the most interesting sites in Old Gdansk:  the Golden Gateway, Neptune's Fountain, Artus Court and Dluga Street. Moreover during your stroll along yacht harbour, you will see the famous  wooden Crane on the  River Motlava. Next, you will visit Oliwa ( a part of Gdansk) for a concert of organ music  in the famous Oliwa cathedral.  There will be an optional afternoon visit to Sopot. Sopot is the one of the most known Polish seaside resorts and is famous for the longest wooden pier in Europe.  Dinner and an overnight stay at a hotel.
Day 3rd
Breakfast, then the departure by bus to Elblag along the Zulawy region, which is located up to 1,8 meters below the sea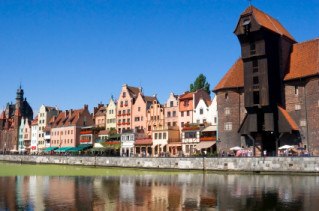 level.  From Elblag you will start your fascinating ship journey to Maldyty, along the Elblaski Canal. The canal, built in XIXth century, is known as a wonder of hydraulic engineering technology. Next, a transfer to Olsztyn – there will be a possibility of visiting the famous sanctuary in Gietrzwald. On the way dinner in a restaurant and an  overnight stay at a hotel.
Day 4th
Breakfast, then a  sightseeing tour of Olsztyn,  followed by a  visit to Lidzbark Warminski, the former residence of  the Warminski Bishops. Next, you will continue your trip to Reszel,  for a visit in its famous medieval castle. From Reszel, you will go to Swieta Lipka, where you will visit the most beautiful Baroque church and monastery in the Masuria region.  Dinner in a restaurant and an overnight stay at a hotel.
Day 5th
Breakfast, then a transfer to  the Wolf's Lair near Ketrzyn. A half-day excursion to  The Wolf's Lair –one of  the former Hitler's headquarters, which is situated in the middle of the forest and consists of 30 buildings and 50 bunkers. Departure to Gizycko, some time to relax at this beautiful city, located between two Masurian lakes. Dinner in one of the famous "sailors' restaurants" and an overnight stay at a hotel.
Day 6th
Breakfast, then a cruise from Gizycko to Mikolajki – the real center of  the Masuria Region, also known as "the Land of a Thousand Lakes". A guided stroll around the village and a transfer for dinner and an overnight stay in a hotel.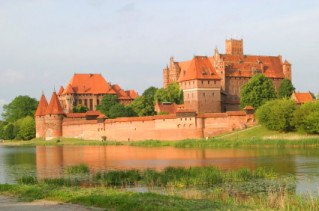 Day 7th
Breakfast, then a transfer to Malbork for a visit in the Malbork castle  – Poland's largest brick castle and the former residence of the Grand Master of the Teutonic Knights. The guided tour includes a visit at the Museum with one of the largest Polish collections of amber. An afternoon departure to Gdansk for your return flight or the next part of your tours Poland.
If you are interested in this tour, contact us by e-mail or phone and let us know more about:
– the number of participants coming with you,
– the exact or possible  date of your visit,
– the standard of accommodation and type of rooms that you would like to book,
– any changes or additional services in the program above.
Similar tour – All treasures on North-Eastern Poland…