Chauffeur driven – private Tours in Poland and Central Europe

Private tours and trips will be for the next few years probably the best solution for safe and comfortable travelling and visiting. Our over 15 year experience in organizing that type of tours will help us to do it also for you during your next tour.

Our company private tours advantages – 6 point protocol:
– private transfer by one, the same driver and our car, van, minibus (for a bit larger groups) for your group during your whole tour,
– private tours with our local guides for your group only,
– comfortable traveling by our cars (usually not older than 3-4 years),
– flexible tour program what allows you to change tour schedule when it is necessary,
– available travel insurance what covers any necessary treatment and medicines during your tour with us,
– your deposit is safe and we are open to move your trip date for another date.
Moreover you have an option to purchase a special "All risk cancellation" insurance for your tour which offers your all deposit refund even a week to your arrival date. More information here.
The following offers are directed to persons interested in private – chauffeur driven tours to Poland and Central Europe private tours. Find below 20 of our tour programs selected for  2024 season, as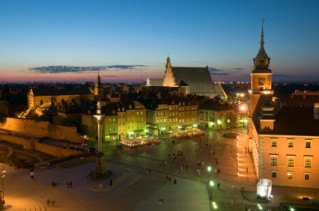 possible private tours in Poland or Central Europe. The complete tour package always includes accommodation at first class hotels, half-board based on the best Polish and European dishes and restaurants. We also pr0vide everyday assistance from our professional, English speaking guide-driver, private local guides in visited places, and all information about additional local events, during your stay in Poland or other Central Europe countries. Any of the tour programs presented below may be customised according to your wishes.
If you don't find them interesting enough for you, feel free to review other our programs at extra Regular and group tours in 2024 catalogue.   Look below for a special offer and look at our clients opinions at TripAdvisor to be sure your decision to go with us is correct, please !
BOOK YOUR TOUR NOW TO GET LOWER TOUR PRICE !!!

SELECT TOUR FROM A LIST BELOW OR JUST SEND YOUR REQUEST BY E-MAIL AT: office@greetingsfrompoland.com  –  we will answer within one day !
TOURS UP TO 8 DAYS:


TOURS FROM 9 TO 16 DAYS: