Day 1st
Your arrival to Kraków. Transfer from the airport and the first part of your  visit – the sanctuary in Krakow – Lagiewniki, famous for sister Faustina and her grave, then a visit to Shrine of Jesus. Dinner and first overnight stay at a hotel during your Poland tour.
Day 2nd
Breakfast, half-day guided tour of Krakow: the Main Market with St. Mary' s Basilica and the historical trade pavilions of the Cloth Hall. Next, a guided walk along the Royal Route to Wawel Hill with its renaissance Royal Castle and Cathedral  -the seat of Cardinal Karol Wojtyla, before he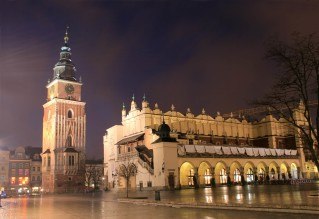 became Pope Jahn Paul II). Dinner in the restaurant, an overnight stay at your hotel.
Day 3rd 
Breakfast. Departure to Ludzmierz for a  visit to the oldest catholic Parish and church (founded in the XIII-th century) in the Podhale region. The Sanctuary was visited by John Paul II in 1979 during his first pilgrimage to Poland as a Pope. Later this afternoon you depart to Zakopane. Your city tour includes a visit to the sanctuary of The God's Mother of Fatima and the wooden Jaszczurówka Chapel. Dinner and an overnight stay at a hotel or regional pension.
Day 4th 
Breakfast. Morning departure to Kalwaria Zebrzydowska – the most important pilgrimage centre in the Malopolska Region. A walk along the Via Dolorosa, built in XVII-th century by Zebrzydowska Family and a visit at the Bernardine Church. Afternoon departure to Wadowice -the birthplace of Karol Wojtyla (John Paul II) to visit his former home and parish church, where he was baptized. Ride to Oswiecim (Auschwitz). Visit to the former Nazi concentration camp, where St Maxymilian Kolbe and St Edith died. Dinner and an overnight stay at a hotel.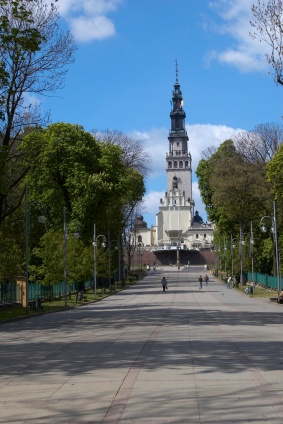 Day 5th
Breakfast. Morning departure to Czestochowa. A whole day visit to Jasna Góra – Czestochowa monastery, the most important place for Polish Catholicism. The tour includes the Paulinian's Hill, the Treasury and the Chapel with the famous icon of the Blessed Virgin Mary. Afternoon transfer to Krakow or Warsaw for next part of your Poland travel or departure. Your Poland pilgrimage tour ends.

Tour date: any date – on your group request.

Tour prices: 
660 USD / person (group of min. 10 persons)
490 USD / person (group of min. 20 persons)
430 USD / person (group of min. 30 persons)
if you have a smaller or larger group send a request to get best price for you !
Price includes:
– transfers by a luxurious car, van or coach (depends on group's size),
– accommodation at selected  hotels 3* and 4*,
– breakfasts and dinners as indicated in tour program,
– tour guide services,
– entries and local guides, where it's obligatory with all necessary reservations,
– Vat and local taxes