Day 1st
Your arrival to Wroclaw, transfer to your hotel. Depending on your arrival hour, some time to relaxation or a private evening stroll along the Old Town. A welcoming dinner in a regional restaurant on request, first overnight stay at a hotel during your Poland tour.
Day 2nd
Breakfast, then a guided tour of Wroclaw: the Old Town Square, Gothic Town Hall, complex of medieval architecture on Ostrow Tumski Island with its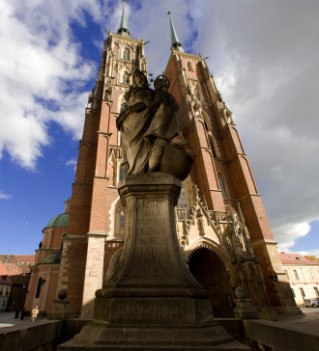 gothic cathedral, and the University with Aula Leopoldina. An optional visit to "Panorama Raclawicka", the magnificent painting, presenting one of the most know battles in Polish history. Afternoon time for your arrangements, an evening time option of going on a spectacle in the famous Wroclaw opera with dinner, and next an overnight stay at a hotel.
Day 3rd
Breakfast. Departure for a whole day tour of the Ksiaz castle and Swidnica. The Ksiaz castle is the third largest castle in Poland, situated on a rocky hill. Next the departure to Swidnica to visti the famous "Church of Peace", built in XVII th century after the 30- year long war. Afternoon drive back to Wroclaw, then a transfer to the airport or one additional overnight stay with breakfast at your hotel, and next part of your Poland travel, like Weekend in Warsaw.
If you are interested in this Wroclaw region tour, contact us by e-mail or phone and let us know more about:
– the number of participants coming with you,
– the exact or possible  date of your visit,
– the standard of accommodation and type of rooms that you would like to book,
– any changes or  additional services in the program above